---
---
New Exhibition
12/5/2019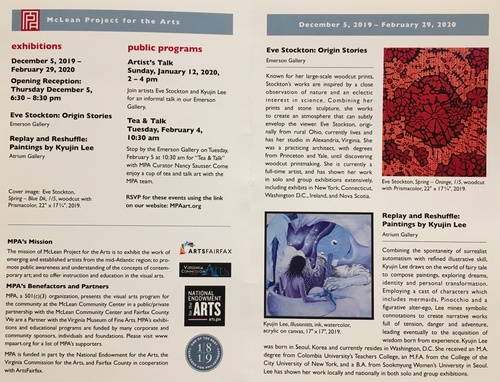 Reply and Reshuffle: Paintings by Kyujin Lee, Atrium Gallery, McLean Project for the Arts, December 5, 2019 - February 29, 2020.

McLean Project for the Arts, 1234 Ingleside Avenue, McLean, VA 22101
703.790.1953
www.mpaart.org
Gallery Hours: Tuesday through Saturday, 10am - 4pm
---
Exhibition News
9/29/2019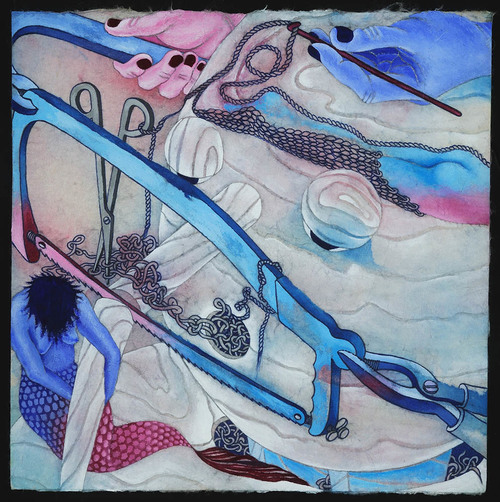 "Reform" shown in Charmed, I'M Sure, a summer group exhibition (2019) at Adah Rose Gallery, Kensington, MD.
---
Press: Koreatimes (한국일보), 6/27/2019
9/29/2019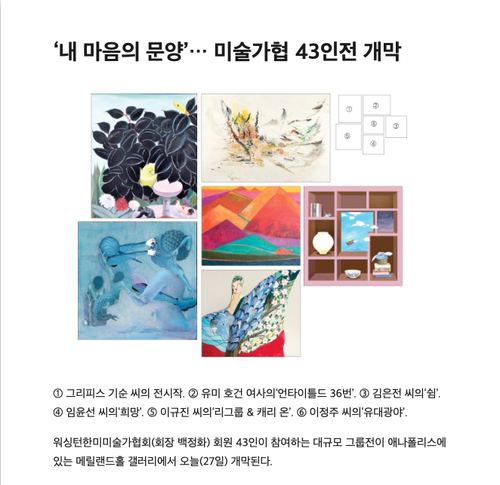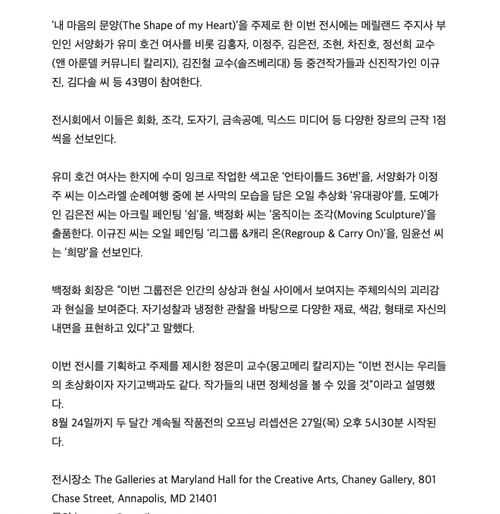 ---
Exhibition News
9/29/2019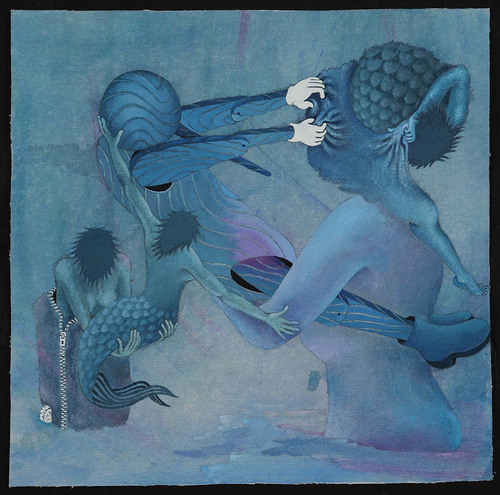 "Regroup & Carry On" shown in The Shape of My Heart, a group exhibition by Han Mee Artists Association at Chaney Gallery, Maryland Hall for the Creative Arts, Annapolis, MD. 6/27/2019 - 8/24/2019.
---
Exhibition Review
2/2/2019
Greatly honored to exhibit alongside a magnificent group of veteran artists in "Carte Blanche: Adah Rose Comes Home to Studio Gallery" (1/9/2019 - 2/2/2019) in Washington, DC and to be included in mark Jenkin's review in the digital version of the Washington Post.

Full Article can be found here.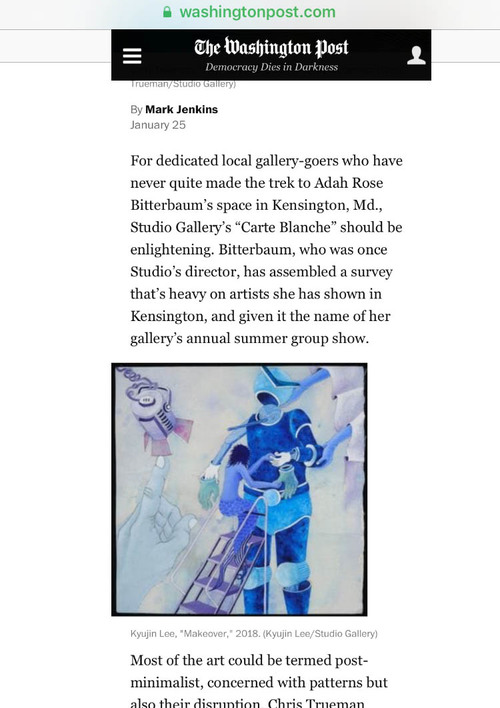 [...]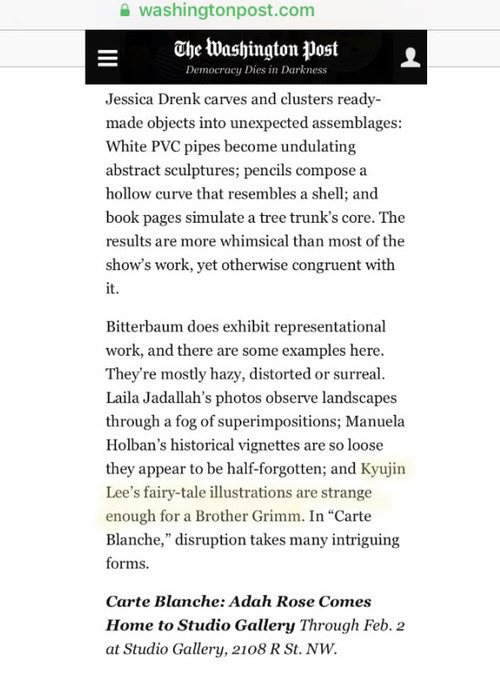 ---
Current Exhibition
8/24/2018
A new exhibition, Animals Altered at Takoma Park Community Center, MD from July 12, 2018 to September 9, 2018. I am greatly honored and delighted to exhibit my latest work along with four magnificent DMV artists - Marta Gutierrez, Susan Hostetler, Ghavuri Kumar, Stephen Loya.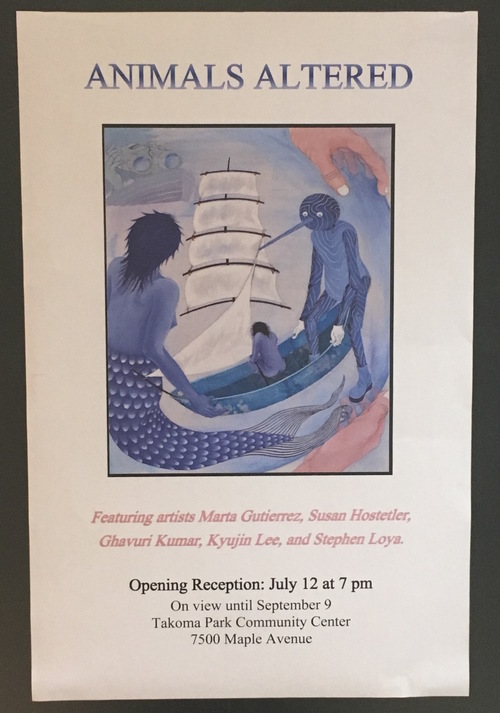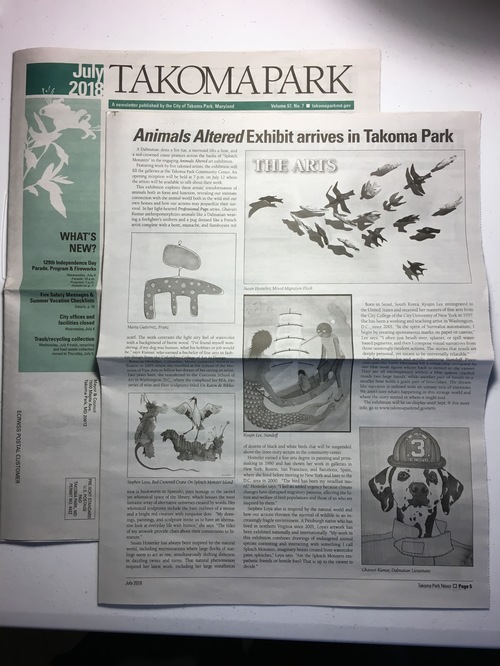 ---
Recent Exhibit
8/24/2018
Hide and Sick (2016) and the pressure (2016) shown at a pop-up art exhibition and CAIR (Capital Area Immigrants' Rights) Coalition Fundraiser, Documented Humans in Gallery 724, Alexanrai VA on Saturday, August 18, 2018. Curated by Jenny Wu and Michael Holt.