Exhibition News
9/29/2019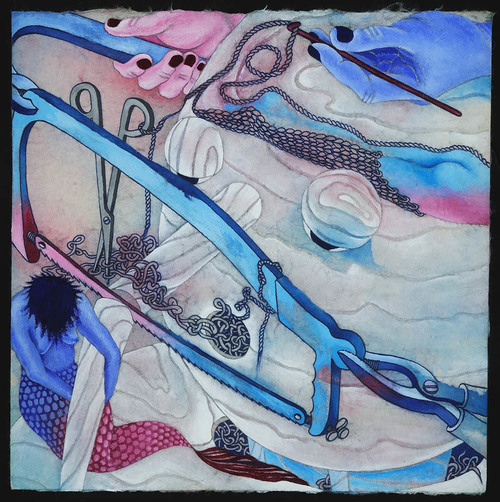 "Reform" shown in Charmed, I'M Sure, a summer group exhibition (2019) at Adah Rose Gallery, Kensington, MD.
---
Press: Koreatimes (한국일보), 6/27/2019
9/29/2019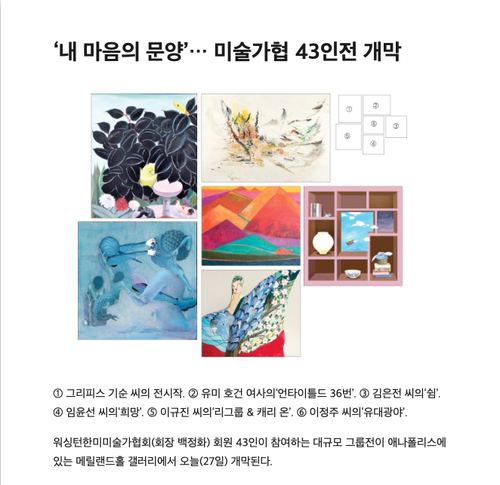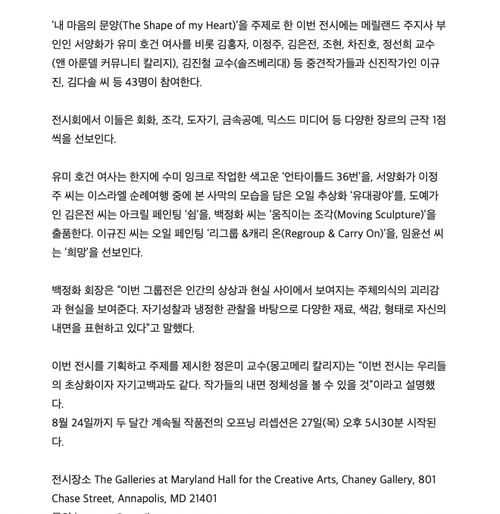 ---
Exhibition News
9/29/2019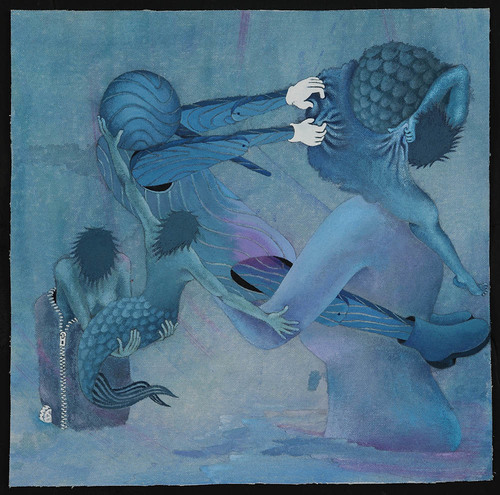 "Regroup & Carry On" shown in The Shape of My Heart, a group exhibition by Han Mee Artists Association at Chaney Gallery, Maryland Hall for the Creative Arts, Annapolis, MD. 6/27/2019 - 8/24/2019.
---
Exhibition Review
2/2/2019
Greatly honored to exhibit alongside a magnificent group of veteran artists in "Carte Blanche: Adah Rose Comes Home to Studio Gallery" (1/9/2019 - 2/2/2019) in Washington, DC and to be included in mark Jenkin's review in the digital version of the Washington Post.

Full Article can be found here.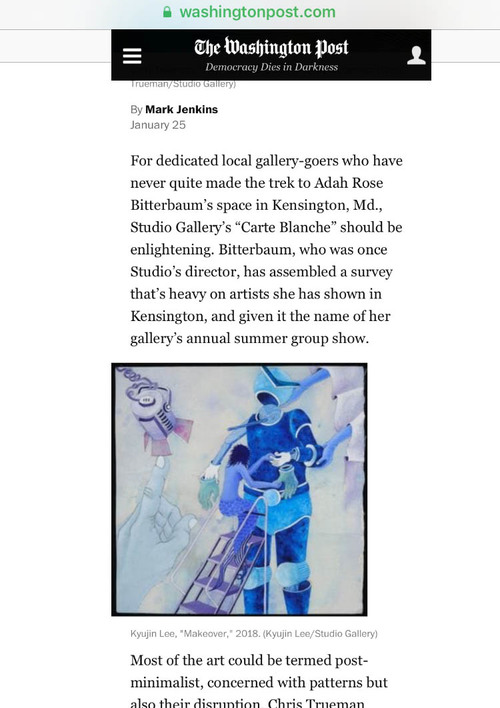 [...]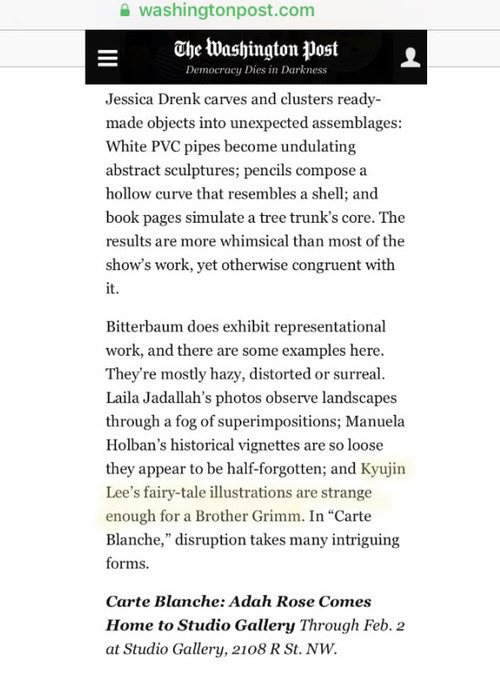 ---
Current Exhibition
8/24/2018
A new exhibition, Animals Altered at Takoma Park Community Center, MD from July 12, 2018 to September 9, 2018. I am greatly honored and delighted to exhibit my latest work along with four magnificent DMV artists - Marta Gutierrez, Susan Hostetler, Ghavuri Kumar, Stephen Loya.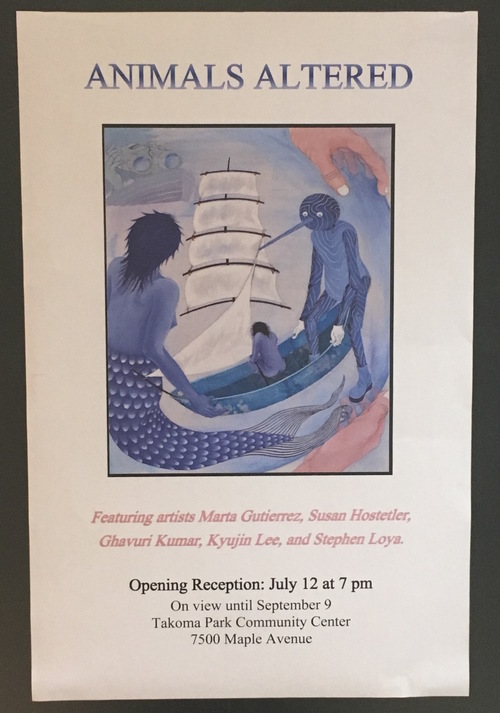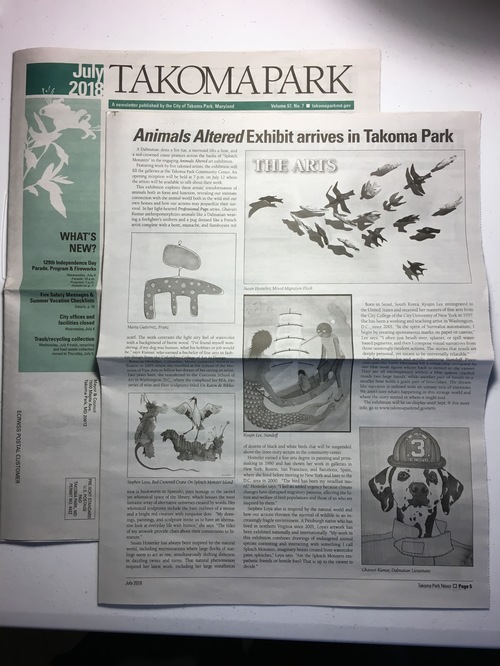 ---
Recent Exhibit
8/24/2018
Hide and Sick (2016) and the pressure (2016) shown at a pop-up art exhibition and CAIR (Capital Area Immigrants' Rights) Coalition Fundraiser, Documented Humans in Gallery 724, Alexanrai VA on Saturday, August 18, 2018. Curated by Jenny Wu and Michael Holt.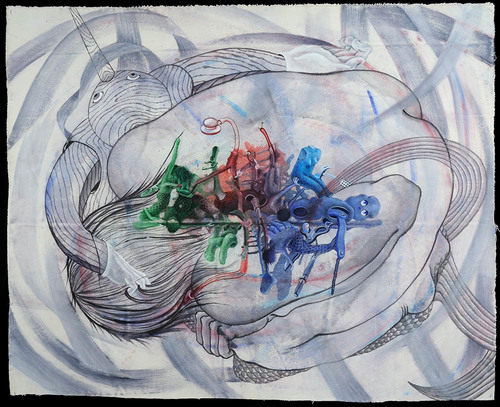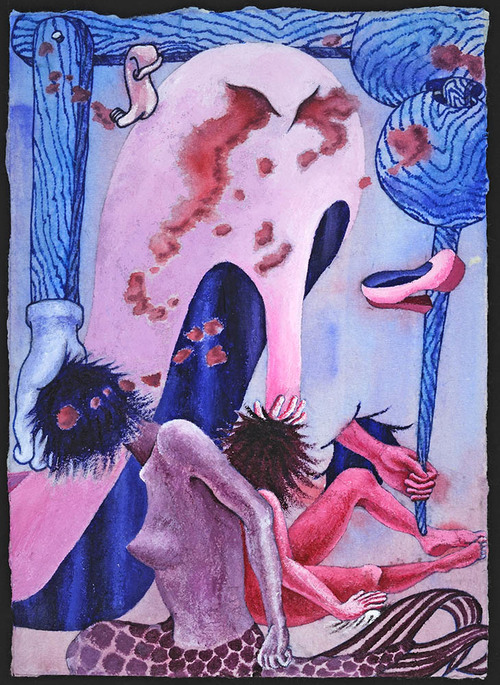 ---
New Exhibit
2/25/2018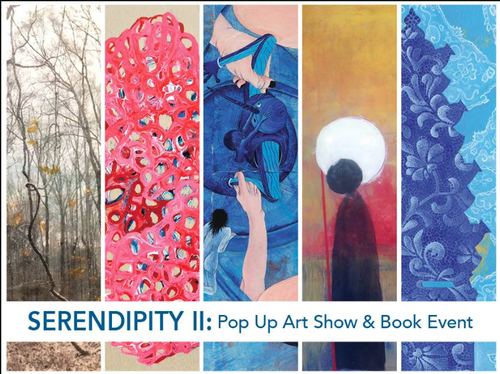 Serendipity II: Pop-up Art Show & Book Event at 200 Daingerfield Rd., Alexandria, VA from Friday, 2/23/2018 to Sunday, 2/25/2018

Participating Artists: Kathryn Coneway, Alice Whealin, Kyujin Lee, Cheryl Edwards, and Maremi Andreozzi
---
New Exhibition
11/10/2017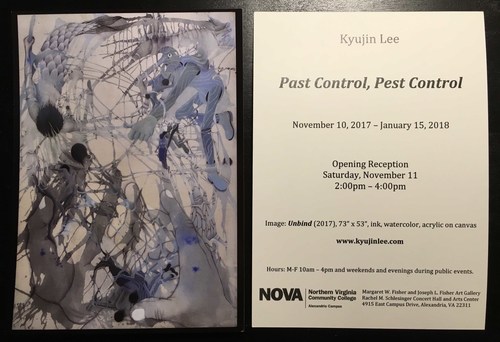 Past Control, Pest Control, Margaret W. Fisher and Joseph L. Fisher Gallery, Rachel M. Schlesinger Concert Hall and Arts Center, Northern Virginia Community College, Novemer 10, 2017 - January 15, 2018.

Opening Reception, November 11, 2017, 2pm - 4pm.
---
New Exhibition
10/28/2017
An art project of the ArtWatch collective, The One House Project at Touchstone Gallery in Washington, DC from November 3, 2017 to November 25, 2017. 220 artists in the DC, Maryland, and Virginia area stand up for tolerance, inclusion, and unity.

House of Separation and Connection (2017), ink, watercolor, acrylic, marker, paper collage on wooden panel, 12" x 12"